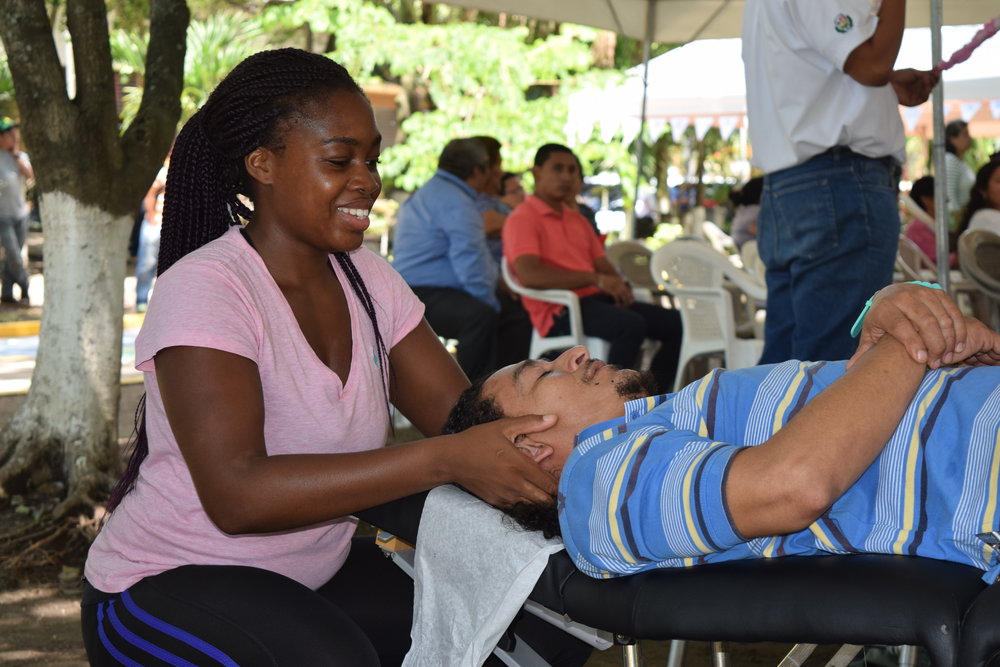 "One of the highlights of my professional career to date!"
Spinal missions trip in el salvador, 2016.
Sharon Sackey, Doctor of Chiropractic
I have always had a keen interest in sports, fitness and performance. I knew I wanted to become a chiropractor ever since secondary school, when I observed my first chiropractic adjustment. From then my mind was made and I pursued my goal of graduating from the Anglo-European Chiropractic College; a goal I achieved in 2012. As well as my core chiropractic education, I have undergone additional training in Webster technique, pregnancy acupuncture, dry needling & sports rehabilitation.
During my final clinical internship year, I had the privilege of working with semi-professional and professional footballers including Southampton Football Club first team. I was also awarded The International Federation of Sports Chiropractic (FICS) scholarship for my contribution to sports chiropractic at university.
I use to finish this section with with what I like to do in my spare time, but at the moment 'spare time' is a thing of the past! Thanks to the arrival of my beautiful daughter evelyn. She keeps me busy 24/7!
I have thoroughly enjoyed years experience treating little ones and working with everyone from weekend warriors, to grandparents, sporty kids, athletes and performers of all ages during my time in practice. I believe we all have an inner athlete and I love helping people find and develop theirs. This may be in the form of preparing for a dance performance or having the ability to kick a ball around with the grandkids.

My sports knowledge has been the foundation in my number one passion for treating pregnant women. The amazing physical and emotional journey through pregnancy is not too dissimilar to preparing for a marathon or a big game. I love helping women enjoy a happy, healthy and pain-free pregnancy, preparing for their big day and beyond. And best of all I love meeting their little babies.